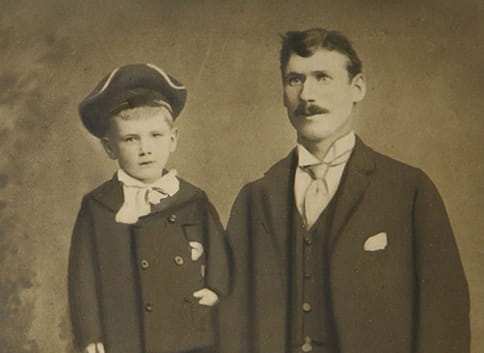 Keator ancestors: George O'Donnell Sr. with son George Jr., circa 1900
Client services
Keator Group, LLC, is a family working for families, offering generational wealth management solutions. Our goal is to provide superior service with the utmost integrity and confidentiality while preserving capital and achieving long-term growth.
When you look for a financial advisor, we believe you should look for the following:
a person who's concerned about your financial welfare
confidentiality
objectivity
a good listener – someone who will take time to get to know you and understand your financial objectives and needs
a professional who has the knowledge and resources to help you grow over the years
a member of your team who will work with your accountant, lawyer and other professional advisors as needed – to bring you a comprehensive, well-thought-out plan for long-term growth.*
Our suite of services
Goal-based investment planning
Estate planning strategies
Access to lending services through Raymond James affiliates
Charitable strategies
Custodial services
Trust services
Insurance evaluation
Retirement planning, including: traditional, Roth and Roth IRA conversions; SEP-IRAs; pension and profit-sharing plans; 401(k) plans; and defined-benefit plans. We can evaluate existing plans and work with you and your advisors to design and implement new plans.

We are trained, qualified, recognized and ready to help you take control of your financial future. In selecting us, we realize you've chosen us over alternatives in a competitive industry. We'll work hard to continue to earn your trust each time we serve you. An excellent first step in establishing your relationship with us may be setting up an asset-management account. Your account includes:
a choice of professionally managed portfolios*
SIPC and FDIC insurance: "How your money is protected"
automatic reinvestment of interest, dividends and other cash balances into the portfolio you select
a comprehensive account statement for your cash and/or securities
convenient check-writing and ATM access
direct deposit – automatic deposit of your paycheck (or government checks like Social Security) in your account via electronic funds transfer
an automatic payment feature – monthly debits for payments like mortgages, insurance drafts and car payments
overdraft protection through a credit line
internet access to account information – clientaccess.rjf.com/
and much more …
Call us to hear more about our process and services.
*Managed accounts are charged advisory fees in addition to internal fees of investment company products and should be evaluated when determining the costs of a fee-based account. A list of additional considerations as well as the fee schedule is available in the firm's Form ADV (Part 2A) as well as in the client agreement. Please ask your advisor to provide.